PRODUCT FAMILIES
Select the most suitable equipment for your community from
6

product families, or combine the most versatile pieces into a fully functional open gym experience.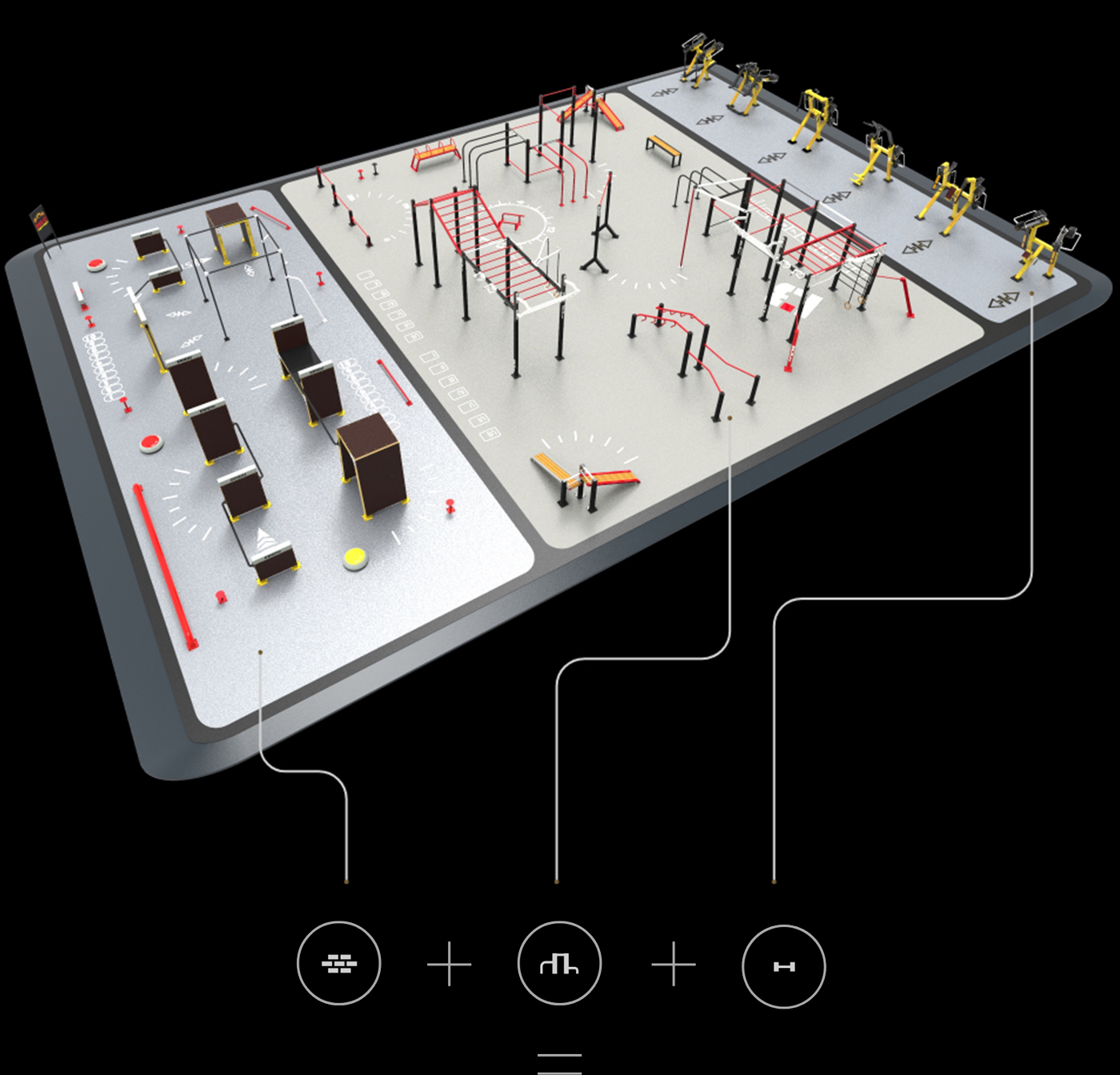 Combo Gym
CUSTOMIZATION
Bring your colours to life, with custom colour selection for up to
4

components from over

120

different colours.
What is a Street Workout?
One of the fastest growing worldwide trends among street sports, a street workout consists of static and horizontal bars at varying heights. Users utilise their own body weight for exercise without the need for conventional gym equipment.
Its origins stem from calisthenics, the oldest method of strength and endurance training used frequently by legendary Spartan warriors in their preparation for battle.
The word calisthenics comes from the ancient Greek words 'kalós' meaning 'beautiful' and 'sthenos' meaning 'strength'.
What is an Outdoor Gym?
Imagine a conventional gym, much like the one you may already visit under a gym membership. There are only two differences between a conventional gym and an outdoor gym:
The outdoor gym is free to use, as it is publicly available, typically in an easily accessible outdoor space.
The type of machines and equipment differ in that unlike conventional gym equipment, the weights cannot be physically removed from the machines. They can only be redistributed in accordance with the users' own strength or comfort level. This design protects against injury, theft and vandalism.
What is Parkour?
With origins in military obstacle training, the aim of this sport is to navigate from one point to another in a complex environment in the fastest and most efficient way possible.
Parkour includes a combination of movements such as running, climbing, swinging, vaulting, jumping, rolling, crawling and balancing. It involves seeing one's environment in a new way and imagining the potential for navigating through it by movement around, across, through, over and under its features.
What is Multi-Arena?
Multi-arenas, or Multifunctional Sport Facilities enable you to host a various number of sports under one roof, such as soccer, volleyball, basketball, tennis, badminton, hockey, martial arts, or aerobics. Regardless of the weather conditions, members of your community can utilise the arena to better their fitness while having fun. The surrounding net construction not only allows good air circulation inside the arena, but also enables a game flow without breaks. Overall this asset has very low maintenance and operating costs.
What is a Climbing Wall?
As the name suggests, it's a wall that can be climbed much like a rock climbing or bouldering wall. Up to a certain height, it can be installed in a public space as an alternative to children's playgrounds and there is no need for ropes and harnesses. This asset enables kids to build their endurance and functional strength while improving their balance, coordination and spatial awareness. It's a whole body workout that is both challenging and fun!
What is OCR?
Obstacle Course Race (OCR), is a custom designed military training like course with a range of different obstacles such as pyramid or straight walls, mud or sand pits, nets, rope climbs, vertical ramps, swings and the like, set up as a course which competitors can time themselves to complete. It is very much like the courses popularised by television shows such as Ninja Warrior, Australian Spartan, or Survivor. This is a custom option only, dependent on your available area size, and budget.
Product Brand: